11 Fun Outdoor Date Ideas to Try This Summer
Summer is the perfect season for outdoor dates. Spending time outside has a variety of health benefits. With the weather being warmer and the sun shining more frequently, there are many different date ideas to do with your significant other. No matter how long you've been dating, here are some fun outdoor date ideas to try this summer!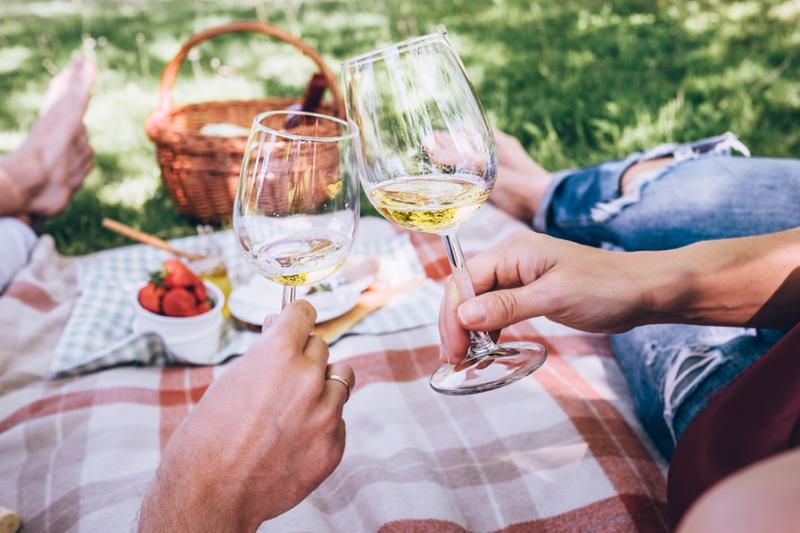 Source: Soloviova Liudmyla/Shutterstock.com
1. A romantic picnic.
Pack a delicious picnic lunch and head to your local city park for a relaxing afternoon with your significant other. Bring a blanket, a bottle of wine, show off your fun metallic silicone ring and enjoy each other's company while surrounded by beautiful scenery. Take the time to really get to know each other and enjoy each other's company!
2. Go hiking together.
Get your blood pumping and explore the great outdoors by going on a hiking adventure with your partner. Stock up on quality workout accessories and visit a nearby mountain or explore a local nature trail. Take in the scenery, get some exercise and consider challenging each other along the way. Who can notice more birds while hiking? Which one of you can make it to a certain mile marker within 45 minutes? Set the parameters together and see who can win. Don't forget an exciting incentive like the loser does the dishes every night for a month!
3. Spend a day at the beach.
Take a trip to the beach and enjoy the sun, sand and water. Play beach volleyball, go for a swim together or just relax and soak up the sun. Pack a cooler with snacks and drinks you can enjoy together. Always make sure to bring lots of water, as spending the day at the beach in the heat without proper hydration can lead to heat exhaustion and even heat stroke.
4. Take a walk around a local Farmer's Market.
Enjoy a casual stroll through your local farmer's market with your significant other! Sample fresh produce, buy some flowers and enjoy the warm summer air. Farmer's markets are a great way to support local businesses and enjoy a relaxing day out too. Consider making a day of your date by using the produce you pick up at the farmer's market to cook dinner together that evening. It's a great way to complete something together and also use the items you purchased!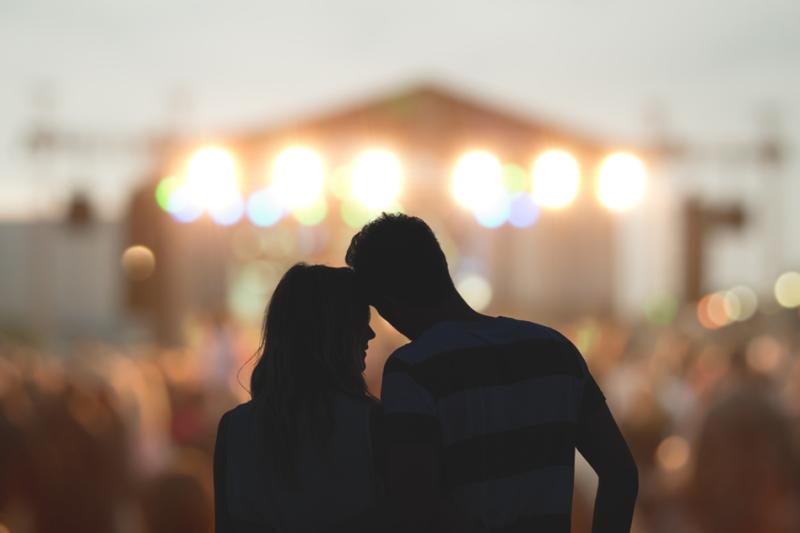 Source: AstroStar/Shutterstock.com
5. Enjoy some tunes at an outdoor concert.
Grab some tickets to an outdoor concert and enjoy live music with your significant other. Whether it's a performer you listen to all the time or someone you've never heard before, outdoor concerts are a great way to enjoy live music with your significant other and support local entertainment without breaking the bank. Make sure you bring a rain jacket in case of any summer storms!
6. Take a couple's bike ride together.
Take a scenic bike ride through your local bike trails, down a beach boardwalk or even through Main Street! You can rent bicycles for the day or bring your own bikes and explore new parts of your city or town. Pack a picnic lunch and stop along the way for a romantic lunch break. Cycling is also much better for the environment than taking a drive, so you both can rest easy knowing you've done your part for a better Earth even while on your outdoor summer date together.
7. Cuddle outside and watch a movie together.
Whether you visit your local outdoor movie theater or you hang a sheet to your fence, enjoy a romantic movie under the stars with your person once or twice this summer! Bring some cozy blankets and pillows, pop some popcorn and stock up on some snacks to eat while snuggling up together enjoying a film of your choice.
8. Go kayaking or canoeing at sunset.
Rent a canoe or kayak and hop in the water for some summertime fun. Explore a nearby lake or river and take in the scenery while getting some exercise in the process. Try going at or near sunset so you both can take in some incredible views together. The orange hues of the sky will feel romantic and help you two feel closer.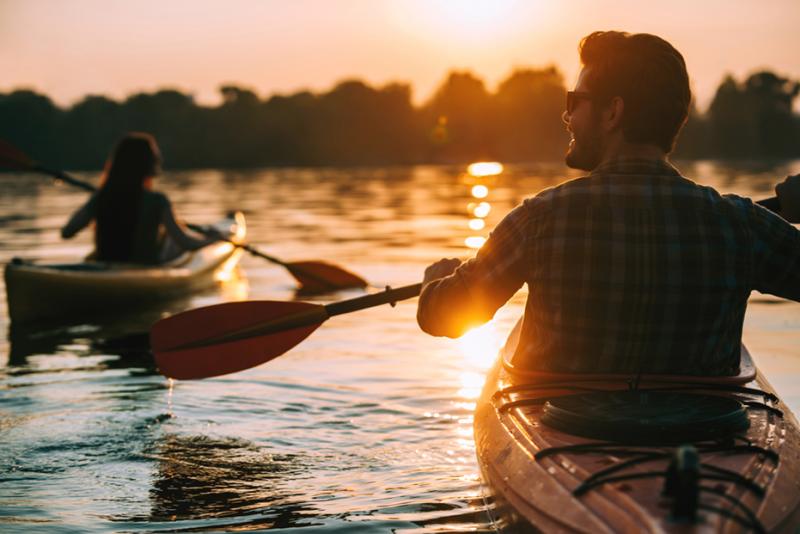 Source: G-Stock Studio/Shutterstock.com
9. Enjoy a summer day on the water in a boat.
Take a romantic boat ride on a nearby lake or river with your significant other this summer. Rent a sailboat for the day and enjoy the warm summer breeze while taking in the scenery together. This is also a great group date idea to do with friends and family! You might even be able to avoid paying to use a boat. Just provide them with your stellar company instead!
10. Snuggle together at a bonfire.
Sure, it might be warm outside during the day, but summer nights can get a little cool and breezy. Enjoy a cozy summer evening with your significant other by a bonfire. Gather some firewood, roast marshmallows for s'mores and cuddle up with your significant other under the stars.
11. Paint together on the porch.
Painting and other crafty activities are great to do with your significant other. Whether you get a stenciled paint by numbers or you two just break open some jars of paint and canvases to create whatever your heart desires is entirely up to you. Either way, painting together is a great activity to do together on the porch this summer!
Summer is the perfect time to try new outdoor date ideas. Whether it's exploring new trails, enjoying a concert under the stars, or simply spending a relaxing day outdoors, every couple can find something that's perfect for them. The bottom line is that the two of you get to spend some quality time together. Create amazing memories with your significant other and enjoy the time you're together. Planning an outdoor date with them doesn't have to be hard. With a little attention to detail, you'll be well on your way to planning a great outdoor summer date in no time. They'll just be glad to spend time with you!