World Class Attractions and Cuisines Not to Miss in Singapore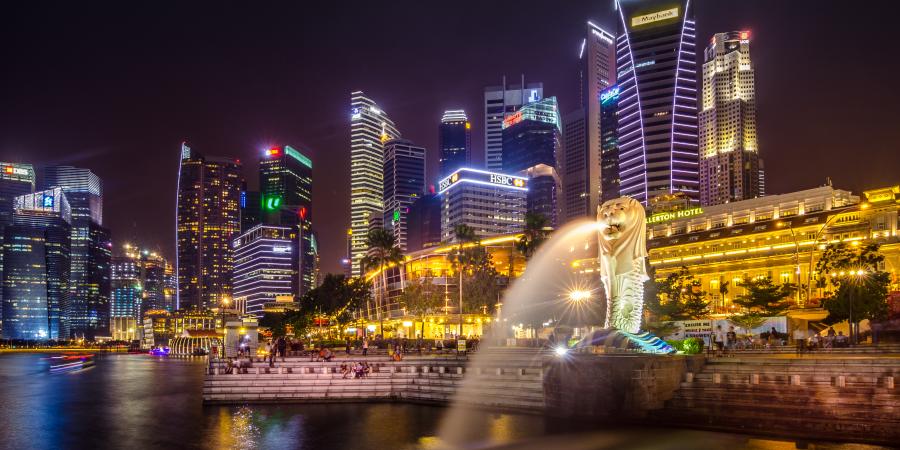 Singapore lies South-East of Asia, at the tip of the Malay Peninsula. It is a beautiful city that is also known as the Garden City, the Lion City, and the Red Dot. With its Marina Bay Sands, the Esplanade, and the Merlion, Singapore is known for its world-famous attractions. The towering skyscrapers make the city one of the most popular destinations for tourists. Here are some Singapore travel tips that will make it easy for you to tour around the city.
1. Universal Studios Singapore
Don't miss visiting Universal Studios, which is a theme park within the Sentosa Island. Some of the activities to enjoy here are 24 rides, attractions, and shows in seven zones. As you Ride the Movies on roller coasters, you will get a feeling of a thrilling world.
The world of entertainment brings the silver screen to life, helping you immerse yourself in seven zones including Hollywood, New York, Madagascar, Ancient Egypt, Lost World, Far Far Away and Sci-Fi City. Universal Studios is popular for the 4D Shrek fairy-tale of the Duloc and its quipster dwellers. In the movie and film studios, you will enjoy blockbuster films like DreamWorks, Giant Journey, Battlestar Galactica, and Tweaker Bell.
Beyond the movies, you will have an opportunity to enjoy the spectacular fireworks displays during the holidays and on weekends, street entertainment as well as shows from award-winning performers.
2. Sentosa Island
Sentosa Island is very popular as a tourist destination. It receives over twenty million visitors every year. You will enjoy taking a walk along the 1.5 mile-long sheltered beach, playing some golf at the golf course, visiting the Merlion, the Resorts, and the theme park.
Sentosa is a word that translates as peace and tranquility, just what you are bound to get while visiting here. If you are looking for a thrilling adventure or a relaxed atmosphere, Sentosa is the place to go. While in Sentosa you can visit the following attractions for even more adventure:
It is a fun-filled adventure activity suitable for riders of all ages and experience levels making it ideal for the entire family. (A luge is a light toboggan for one or two people, ridden in a sitting or supine position and it is a unique wheeled-gravity ride that gives riders full control over their descent on purpose-built tracks.) The Skyline Luge provides an outdoor experience on the Dragon and Jungle trails during the day and at night. From various points you will also enjoy the spectacular view of the Singapore coastline and Sentosa Island.
Singapore Merlion is the iconic Merlion which is often used as a symbol of Singapore. It is a mythical creature that is half fish, and half lion. It is symbolic in nature to Singaporeans and is used to represent the city and her people in sports teams, branding tourism, and advertising.
Enjoy a ride on the monorail line that connects Sentosa Island to the Sentosa Mainland. It makes stops at the Sentosa Station, Waterfront Station, Imbia Station, Beach Station, and Imbiah station. The Waterfront station is where Universal Studios and Resorts World Sentosa are located. At the Beach station, you can enjoy the New Year countdown beach party. The Beach Station is home to the Siloso, Palawan, and Tanjong beaches, ideal for family leisure activities.
3. Singapore Flyer
Towering at 165 meters, the flyer is the largest Giant Observation Wheel in the world. It will leave you with memories that you never want to forget. The Singapore Flyer was designed by Singapore DP Architects and Dr Kisho Kurokawa. It was launched in 2008, and it offers a sensational view that captures the Marina Bay skyline. From the flyer, you can catch a glimpse of the neighboring countries of Indonesia and Malaysia.
4. Marina Bay Sands Skypark
You have not had an adventure in Singapore until you have dined, taken photos, and shopped at the Marina Bay Sands SkyPark. It is a world-class cityscape, with some architectural wonders. The vibrant, colorful gardens by the bay are sceneries you cannot afford to miss. Look out for the following:
From the observation deck, you will enjoy a bird's eye view of the bustling shipping lanes that tell of the rich multicultural history of Singapore.
The infinity swimming pool makes you feel as though you are floating on top of the world's largest rooftop. The pool gazes down on the glittering skyline, and if you miss taking a photo here, you will have missed the most spectacular photo-taking session in the whole of Singapore.
Spectra - Light and Water Show
A free-to-public show that displays the effects of water and light crisscrossing each other's paths. It is presented at the Event Plaza along the promenade, and as this spectacular show begins, some beautiful symphonic music will give you a warm embrace. The 15-minute combination of water, light, fountain jets, visual projectors and music is something you do not want to miss.
If you are a casino lover, while still at the Marina Bay Sands, make sure you visit the most remarkable entertainment joint located at the heart of the CBD of Singapore. As a tourist you can enter for free by showing your passport (Singapore residents need to pay $100 Singapore to enter!). You will be awed by the over 600 gambling tables and treated to free drinks.
5. Merlion Park
The national icon for Singapore is the Merlion, (mythical half-fish, half-lion) situated at the waterfront in Merlion Park. It is a symbol of the humble beginnings when the city was just a fishing village known as Temasek, or sea town. The head represents the city's original name, Singapura or Lion City. The statue stands at approximately 9 meters and weighs over 70 tons. It is a must-see for visitors, and its current location is in front of the Fullerton Hotel (5 Star Hotel converted from the Singapore General Post Office building) after its relocation during the construction of the Esplanade Bridge that blocked its view in 1997.
6. Esplanade
The Esplanade is a waterfront location north of the source of the Singapore River. The scenic Esplanade has a plethora of activities that will keep you occupied, especially if you are not in a hurry to leave for home. It is infected by palpable creative art displays near the entrance. World-class performances are staged here every day.
The shows bring different cultures together, cutting across various genres. Catch a concert by great westerners like the Vienna Philharmonic Orchestra or Kuo Pao Kun of the Singapore Chinese theatre. Once in a while, you will enjoy free programs from dance to theatre, all taking place at the Esplanade.
Visitors to the site are also attracted by the scenic outdoor view. It overlooks the Singapore River and stands between the Merlion Park and the Singapore Flyer. Here stands the Esplanade theatre that is 60,000 square meters big, where performing arts are held. The concert hall seats 1,600 and the theatre has a capacity of 2,000.
The design of the building is made up of two rounded space frames that have triangulated glass elements fitted to balance outwards views. The outward appearance of the building looks like a durian head. Other facilities available are recital studio and the theatre studio.
7. Chinatown
Squeeze some time in to visit Chinatown in Singapore and relish the colorful Peranakan shop-houses and myriad of historical attractions that make for an excellent stroll. Chinatown is divided into four main sections known as districts which are; Tanjong Pagar, Telk Ayer, Kreta, and Bukit Pasoh. The primary centers of activities are Pagoda Street and Smith Street. Paroda Street can be accessed through the China MRT Station.
If you are interested in learning about Buddhism, visit the Buddha Tooth Relic Temple. It is the biggest Buddhist temple in Singapore, located in the Chinatown district. It was built in 2007, and the interiors richly exhibit the history of Buddhism and its culture over the past 100 years. The temple got its name from the canine tooth of the Maitreya Buddha, which was recovered during his funeral in Kushinagar in India.
8. Little India
Little India is in the heart of Singapore, near Chinatown. It is immersed in a buzzing neighborhood that is bent on awakening all your senses. The multicolored shop-houses, the pungent food aromas that rent the air when demand for food is at its peak, the spiritual chants from the mosques and temples, and the smiles are what make the town lively and warm. It is a must-visit kind of city.
Serangoon road is where the summary of all adventure is, just on the northeast side of the Financial District. Little India has the best hotels at the lowest rates, the best places to eat, and the cheapest shops from which to buy souvenirs. Other must-visit locations are:
A landmark in Chinatown known for serving large portions of fresh Indian food. It is located on Serangoon road, a major road stretching from Little India to Kallang.
Sri Veeramakaliamman Temple
It is one of the oldest temples, and is the focus of early Indian Social Cultural activities. It is also located along Serangoon Road. It is dedicated to Kali, the Hindu goddess.
It is at the end of Serangoon Road and is mostly used by pedestrians. The spillover of sounds and sights make it a challenge to remain focused on the road. Enjoy the souvenir shops, worship buildings like the Sri Krishna temples, and interesting eateries at this lane that knows no vehicle disturbance.
9. Clarke Quay
The handful of excellent restaurants in Clarke Quay and the surrounding Riverside area are an excellent choice for dining by the edge of the waters any time of the day. Once done with your delicious meal, you can cruise the Singapore River, especially at night, for more splendor.
Old colonial shop-houses and moored junks of Clarke Quay have been beautifully converted into restaurants, chic pubs, and nightclubs. Slightly west of Clarke Quay is Robertson Quay, which has more of the same features as Clarke Quay, but is more tranquil and relaxed. If you can find your way to the mouth of the river, you will find delight in the monuments and architecture of colonial Singapore. Be sure to visit the Singapore River, Trace Club, Zouk, and the beautiful luxury Singapore hotels.
The street performance up the Singapore River has made Clarke Quay a dining and party destination that is home to many of the nightlife institutions that are very much loved by the locals. The G-Max Reverse Bungee is a jump in the reverse direction soaring into the city's skyline that will leave you with a thrilling urge for more adventure.
10. LEGOLAND
LEGOLAND is located in Malaysia, which is not very far away from Singapore. It is about 50 minutes' drive from Singapore, through the Second Lin Expressway. However, on a normal working day it will take about one and a half hours by road. Your adventure starts right at the entrance where there is a big shop that offers a great selection of Logo toy products. It is known as the land of adventure and miniland.
You will be surprised to know that LEGOLAND was constructed using only 30 million Lego bricks, as big as it is. The park has five theme parks that will be of interest to you namely Puteri Harbor, The Beginning, Lego technic, Land of Adventure, and Lego Nonjago World. Be sure to visit the Lego Water Park where you can ride the surf, climb and slide down the body slides, and have some flapping wet fun with your family.
If you would like to extend your stay, remember that you can get accommodation at the LEGOLAND Malaysian hotel, located near the park. Remember to carry your passport and Immigration officials will place an entry stamp, known as a social visit pass (visa), in your passport authorizing a stay of up to 90 days. (No visa is required for most nationalities including American citizens visiting Malaysia for social, business or academic purposes.) Lego land is the equivalent of Disneyland in the United States. It is the first LEGOLAND in Asia and the 6th in the world.
11. Night Safari - Wildlife Reserves Singapore
For lovers of wildlife, Nigh Safari Wildlife Reserves is a must-visit while on a trip to Singapore. The site strives to inspire people to conserve biodiversity and wildlife. A journey through the Night Safari will take about 40 minutes, with visitors being taken through seven geographical regions that spread through the Himalayan foothills to the South East jungles of Asia. It is home to nocturnal animals, enabling you to get a deeper understanding of the habitats of these nocturnal animals, as well as an appreciation for wildlife conservation.
Another special attraction is the tribal fire show that is all about an amazing dance by acrobatics. What makes it more interesting is how they play around with fire in their performances.
12. Singapore Cuisine
Food in Singapore is marked with a lot of controversies and contradictions. Food comes from everywhere, but also in another sense, from nowhere. The local cuisine is defined by how it is assembled into something unique.
Its origin comes from Southern China, and the fish head curry from India, but it is an ordinary food in Singapore. It is a simple dish that contains a variety of mild herbs.
A noodle dish influenced by Hong Kong cuisine, but which has become entrenched in the Singaporean culture over time. It is eaten dry in Singapore, with slices of pork char siew and wanton dumplings and some soup as an accompaniment. You can have it spicy or otherwise. The spicy type has chili mixed in, while the non-spicy version is mixed with tomato sauce.
Does not imply a western dessert, but far from it. The Singaporean version is made with eggs, white radish flour cake, and preserved radish (Chai poh) that gives it its dish name. The dish is a favorite in Malaysia as well, but variations include the black version which has sweet sauce (molasses) added. The chopped up version has individual radish cake cubes. The crispy version has a cake fried on top of a beaten egg to create chunks of pie and a crust.
Made from the merging of Malay and Chinese cuisine, also known as Peranakan culture. It comes in two forms - Curry and Asam Laksa. The curry type is more dominant in Singapore, while Asam (sour) is popular in Malaysia. The curry laksa is made from coconut milk, vermicelli, tau pok, shrimp, fish slices, and cockles.
It is known as the national dish in Singapore, but has its origin in Hainan, China. The meal is best made from kampong (village) chicken, which basically refers to chicken reared the traditional way without hormones, etc. as opposed to larger western chicken.
It is a snack prepared from coconut jam (Kaya), coconut milk, sugar topping, eggs, butter, and pandan. Kaya is served on toast for breakfast but is also very popular as a tea or coffee accompaniment in many homes and coffee houses.
Refers to a drink taken as dessert during summer. The ingredients include light rock sugar syrup, adzuki beans, evaporated milk, which is then topped with ice cream to make the red bean ice cream dessert.
Durian is a strongly flavored fruit that is best fried to remove the strong odor. It is rolled in rice paper then dipped into batter and deep fried at very high temperatures to give it a very sweet taste.
Try these cuisines out and see how the people of Singapore can convert simple ingredients into delicious meals. With this Singapore travel guide, there is no reason why you should not visit this remarkable city/country and enjoy many of its highlighted features.
BiggieTips - Tips and Tricks for your daily life ( http://www.biggietips.com )
We are dedicated to BIG TIPS to help you get things done more efficiently. You will master how to do everything in a bigger way and live smarter. Topics include Home, Health, Lifestyle, Travel, Technology, Entertainment, Business and Video.
* Facebook @BiggieTips
* Twitter @BiggieTips
* Pinterest @BiggieTips
* eBook http://www.biggietips.com/ebook/
Our eBook series will be a collection of Tips and Tricks from our website. If you are an Amazon KU (Kindle Unlimited) subscriber or Prime member, you are eligible to enjoy our eBook for free.